Maintenance of Hot Tub Covers
Proper maintenance can help you make your hot tub covers last for years to come. The maintenance process is very simple. But most owners fail to take much interest in their covers until it's too late.
Here are a few tips to help you maintain your hot tub covers:
1. Clean Regularly –
Clean your hot tub cover at least once in every two weeks. Your cover is made to last a long time. Hence, a regular cleaning can lengthen the life span. Remember, you need a gentle hot tub cover cleanser specific for spa covers.
Do you have known that the use of cleaning products can causes cracking, fading and deterioration? It's necessary to use a cleaner – specifically designed for hot tub covers. Apply a couple of sprays of cleaner and simply wipe down.
2. Keep it Dry –
Covers can be waterlogged. It can make the hot tub very heavy to take on and off. Therefore, you should minimize the amount of water that your cover soaks by drying it once in a while.
3. Do a Thorough Inspection –
Inspect the cover periodically for any signs of damage or wear. Even a small hole or cut can lead to moisture build up – in turn, cause mold growth. Just keep your eyes open and repair them right away, if you find any.
4. Check for Mold and Mildew –
When your hot tub cover is waterlogged, you will see mildew or mold growing on it. The mold and mildew growth occurs because of the stagnant rain water and condensation within the hot tub soaking into the cover. If left untreated, it may start creating unpleasant mildew smell.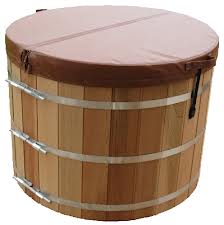 To eliminate the mildew or moss from your hot tub cover:
Use a well-proven, spa-safe cleaner to clean off all visible mold and mildew. It won't take long – actually depends on the severity of the moss or mildew.

Take off the cover and remove the foam cores gently on a dry and sunny day. Remember, you should keep the foam in the shade while cleaning the cover.

Clean inside the cover with a soft brush and a spa-safe disinfectant.

Allow the cover to dry for some time under a couple of hours of sunlight exposure.

Once it's dry, reassemble it carefully.
Buy a Replacement for Your Hot Tub Covers –
These are all about the maintenance for hot tub covers. Please keep in mind that, doing a thorough inspection all the time can save you money in the long run. Even, you can purchase replacement hot tub covers from Cedar Tubs Direct best suiting your hot tub& accessories needs. We specialize in providing custom-made replacement hot tub covers in any color and style with two different insulation values like R14 and R21. Our R14 covers include 4" thick foam and are the appropriate replacement for almost any hot tub cover. But R21 cover available with 5" thick foam is best suited for extreme Northern climates. For an immediate purchase of replacement hot tub covers, please visit our website at https://www.cedartubsdirect.com/.